Hall Management and Facilities
The West Parley Memorial Hall charity is administered by a management committee ("Trustees") comprising a chairman, vice chairman, treasurer and secretary/bookings officer plus other elected/nominated members. They ensure the hall is maintained as a clean bright and inviting venue, for a wide range of activities and events including social, educational, aerobics, dancing, anniversary parties, wedding receptions, dog shows and meetings.
Following months of detailed preparation work, the Hall was registered as a CIO (Charitable Incorporated Organisation) with the Charity Commission on 9th July 2018.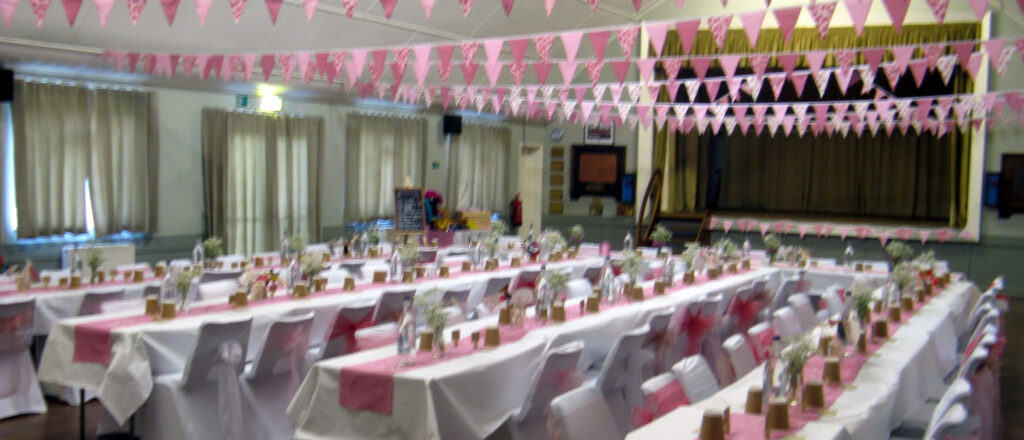 The Hall
The Hall, which is centrally heated, can accommodate around 200 people seated in theatre-style for meetings and up to 150 seated at tables for social occasions and activities. Toilets, including for the disabled plus baby-changing facilities are available, as is Wi-Fi, an audio system, drop-down screen and a piano. An outside Patio is also available, and a large car park.
There is a large stage plus a room that can be used for committee or small group meetings. The Memorial Hall is your ideal local venue! In recent years, the hall interior has been redecorated and stage refurbished. A fitted kitchen, including gas cooker, microwave and water heater, are available, plus crockery. Please contact email [email protected] for all hall booking enquiries